Pick Your Own Apples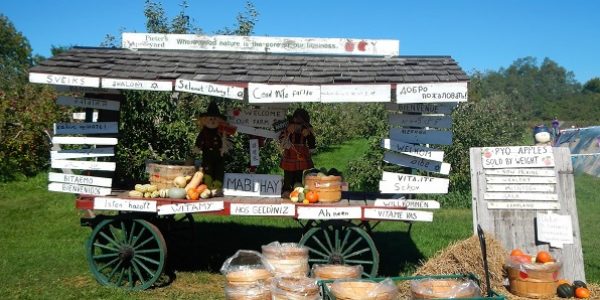 Our popular blended apple cider  scheduled to be pressed on Sept 27th, when all apple varieties are available.

We are currently picking Gala, Cortland , early Macintosh apple as well as Ginger-Gold apple.  Honey Crisp and  Flemish beauty pear  available at the store.  Our Store is  opening NOW from 10AM to 5PM daily. For the detail, please click the link for more : Harvest )
Pieter's Appleyard is a Pick Your Own apple orchard located in beautiful Colborne Ontario, Canada  between Port Hope and Trenton,  along the main part of the famous Apple Route in Northumberland County.  just over an hour's drive from Toronto.  The farm has been growing some of the finest fruits in the region for over 37 years.
You may pick own fruit or purchase some freshly hand-picked apples from Our Country Store. The sooner the fruit reaches your home, the better the fruit tastes. What can be fresher than picking your own or purchasing them at the farm? Come and spend a day with us at our orchard. You will enjoy the breathtaking view of Lake Ontario from the vantage point on the hill.  What could be better than bringing a bag ( or two , maybe  three) of the finest apples home to share with your friends and family after a pleasant fall scenic drive ? 
Check out the rest of our website for more information on our farm and surrounding areas. If you have any questions, please email us at Info@pietersappleyard.com
Address: 13516 County Road 2, Colborne Ontario K0K 1S0
Tel: (905)355-5725, or (647)874-7199 from Toronto